Deprecated
: Function wp_img_tag_add_loading_attr is
deprecated
since version 6.3.0! Use wp_img_tag_add_loading_optimization_attrs() instead. in
/opt/bitnami/apps/wordpress/htdocs/wp-includes/functions.php
on line
5453
Deprecated
: Function wp_get_loading_attr_default is
deprecated
since version 6.3.0! Use wp_get_loading_optimization_attributes() instead. in
/opt/bitnami/apps/wordpress/htdocs/wp-includes/functions.php
on line
5453
Deprecated
: Function wp_img_tag_add_loading_attr is
deprecated
since version 6.3.0! Use wp_img_tag_add_loading_optimization_attrs() instead. in
/opt/bitnami/apps/wordpress/htdocs/wp-includes/functions.php
on line
5453
Deprecated
: Function wp_get_loading_attr_default is
deprecated
since version 6.3.0! Use wp_get_loading_optimization_attributes() instead. in
/opt/bitnami/apps/wordpress/htdocs/wp-includes/functions.php
on line
5453
Deprecated
: Function wp_img_tag_add_loading_attr is
deprecated
since version 6.3.0! Use wp_img_tag_add_loading_optimization_attrs() instead. in
/opt/bitnami/apps/wordpress/htdocs/wp-includes/functions.php
on line
5453
Deprecated
: Function wp_get_loading_attr_default is
deprecated
since version 6.3.0! Use wp_get_loading_optimization_attributes() instead. in
/opt/bitnami/apps/wordpress/htdocs/wp-includes/functions.php
on line
5453
Award(s): One of 10 Advanced Finalist in Crunchyroll Expo's Cosplay Hime Cup 2020, international remote costuming competition
Series: Konosuba / Kono Subarashii Sekai ni Shukufuku o!
Worn at: Collosalcon 2019, San Francisco Japan Festival, Crunchyroll Expo 2019
Estimated build duration: 100 hours+? It's ongoing now as I improve
This character is such a dynamic character who is so relatable. She can be elegant, graceful and feminine like a goddess, a giant crybaby, and a dumb, selfish little brat, all at the same time. In some ways, this character is a welcome expression of all that I can't be in my professional life; I haveto be ready, tone down with the femininity and emotions, with little affordance to make any mistakes, in a male-dominated field. Aqua is loud, boisterous, proud, elegant, and very dumb, haha.
Media/Materials used
3 amazon inexpensive wigs, two of which were used to prototype the hair loop, polyester fabric dyes, plastic ornaments, hooks, hair pins, air clip, thread to tie the plastic balls together
Wig dyes for ombre at the wig ends
Lots of wig wefts for shaping the loop
Wand:

Base: PVC piping, with wooden dowel or smaller PVC pipes as inserts

57 layers of external facing 10mm floor mat eva foam, plus multiple layers to support flower

EVA Foam/floor mat foam and PVC pipe for wand
Bridal stretchy fabrics for the garments. Blue/white/yellow Stretch bridal satins, elastics.
Center bow and bib: white stretchy bridal satin, eva foam gold base, green fabric, plastic ornament decor center, acrylic paint for the center pearl
Skirt: Stretch bridal blue satin, with heavy yellow satin, all edges serged and turned over
Arm warmers: same as bib and skirt, with elastic for the warmers to float
Bow: Bridal satin, foam base with plastic center circle
Boots: pulled boots, white socks
Pulled accessories(not shown): fans, pink sash
Patterns: Self-drafted on all
Construction Notes/WIP
This build initially came from a simpler one, but really elaborated to a potential competition piece.
The garment itself isn't bad at all. All the effort put into the wig really shines in photography. I made an older version of her hair loop, and I'm on my way to making a third (and hopefully final) one. The drafts are attached through hoops and loops. The ball accessories are plastic ornaments I got from Amazon.
Forming the wand waves with 20+ layers of foam took far, far, too much time. It is pure labor of cutting circles, sanding, then filling, sanding, just forever. To be honest, I'm working on a better one!
Getting Wig-gy with it
I made multiple prototypes focusing on Aqua's hair pearl and hair loop. First, I protoyped the shape of her hair loop using paper and thin foam prototypes on a plastic ornament. Then, once I settled on the shapes, I glued hair
wefts on the foam, using Cowbutt Crunchues Cosplay's guide on elaborate hair.
I used a hook, loop, and gravity to keep the loop in the wig! I used a small hair comb as a hook, and
safety pins as the loop. I anchored the comb to the wig furthermore with pins.
The final upgrade I did was to assure her hair was a half-updo, which served well to hide the base hair
comb.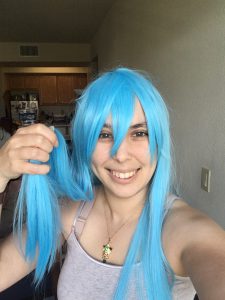 Dyeing for the wig
I needed to dye the tips of her wig, as per the reference. It needed to be a gentle ombre to a navy blue.
I tested out many polyester fabric dyes to see what kind of blue I could get. Once I got the right shade, I tested wefts for different dipping times, to get a good ombre shape.
Baby blue wigs already looks unnatural as is, and I needed the wig to look more natural.
To make the blues of her wig tie better together, I also added blue roots, so the roots better match the tips.
I dyed the root of each weft of the wig, by hand, using acrylic ink and pens. I did this TWICE because my initial wig wash removed the roots!
The goddess's new clothes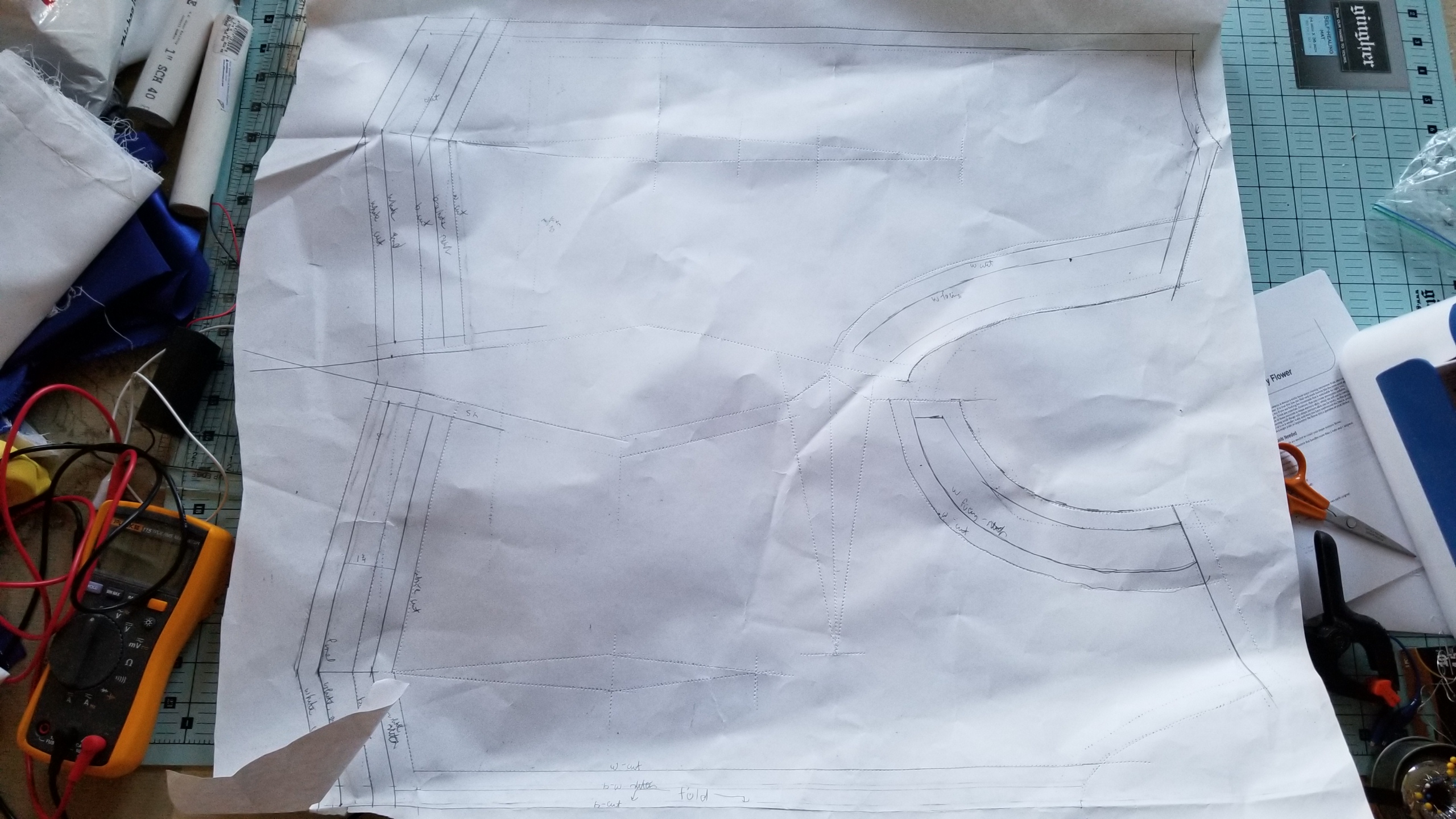 The fabric needs to read as regal, elegant, rich, and high-status, ready for a goddess, but rugged enough for adventure. The higher-end bridal satin, with a decent thickness, met these design goals.
Given the tightness of the top/arm-warmers, she wears a thick stretchy satin. All pieces were drafted by me, using a base bodice I made from my measurements/fit. This garment needs to be tight-fitting and wavy at the same time. I flat-patterned a full circle skirt to give me room for the wavy silhouette, and drafted a well-fitted shirt.
All seams are clean and finished, with serged and hemmed edges on all components.
Results
This was the build that started simple and evolved (and evolving it now) into a fully-fledged competition piece (adding in rebuilds and adding new parts too!).
The wig and staff alone really helped this stand out. I found a new delight in building things larger than myself, as it gave me more of a presence. Strongly recommend all Aqua cosplayers to go build the staff.
Image gallery