Deprecated
: Function wp_img_tag_add_loading_attr is
deprecated
since version 6.3.0! Use wp_img_tag_add_loading_optimization_attrs() instead. in
/opt/bitnami/apps/wordpress/htdocs/wp-includes/functions.php
on line
5453
Deprecated
: Function wp_get_loading_attr_default is
deprecated
since version 6.3.0! Use wp_get_loading_optimization_attributes() instead. in
/opt/bitnami/apps/wordpress/htdocs/wp-includes/functions.php
on line
5453
Deprecated
: Function wp_img_tag_add_loading_attr is
deprecated
since version 6.3.0! Use wp_img_tag_add_loading_optimization_attrs() instead. in
/opt/bitnami/apps/wordpress/htdocs/wp-includes/functions.php
on line
5453
Deprecated
: Function wp_get_loading_attr_default is
deprecated
since version 6.3.0! Use wp_get_loading_optimization_attributes() instead. in
/opt/bitnami/apps/wordpress/htdocs/wp-includes/functions.php
on line
5453
Deprecated
: Function wp_img_tag_add_loading_attr is
deprecated
since version 6.3.0! Use wp_img_tag_add_loading_optimization_attrs() instead. in
/opt/bitnami/apps/wordpress/htdocs/wp-includes/functions.php
on line
5453
Deprecated
: Function wp_get_loading_attr_default is
deprecated
since version 6.3.0! Use wp_get_loading_optimization_attributes() instead. in
/opt/bitnami/apps/wordpress/htdocs/wp-includes/functions.php
on line
5453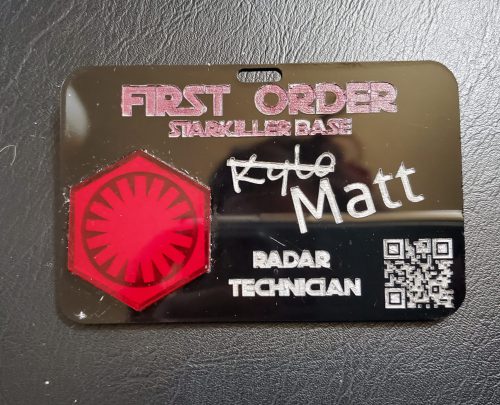 For: Matt the Radar Technician and totally not Kylo Ren from Star Wars/ SNL: Undercover Boss: STarkiller Base skit
Estimated build duration: 5 hours of experimenting and cutting
If you have seen Undercover Boss: Starbase Edition, we got to see an adorkable Kylo Ren try to fit in with the crowd and get to know his employees.
I knew I needed to recreate the adokableness, and saw the badge as a way to design something fitting for Starkiller base. I saw the official made one for the skit, and got inspired by others' recreations of it. I opted for a dark badge, with blindingly bright red logo.
Media/Materials used
Laser cutter. Anything that can etch and cut acrylic plastic can do. They give this industrial feel, which matched the aesthetic of the First Order.
Acrylic plastics. The samples from Tap plastics came in handy to test out different opacities and contrasts in color.
Acrylic paints & sharpie markers. I etched in areas that I wanted to paint/color over, and painted it over.
Adobe Illustrator, but any vector-based painting program can do the trick to interface with the laser cutter.
Notable Construction Notes
This project was a fun experiment in trying out different opacities of acrylic plastics, paired with different paints and markers. I knew I wanted the First Order logo to pop out of the black, and after trying a combination of paints and shapes, I settled for a solid red plastic on top of the black base.
I also took advantage of etching to give the effect of handwriting. I added a scratched out "Kylo" name, as though he accidentally was used to writing his own name, and scratched it out.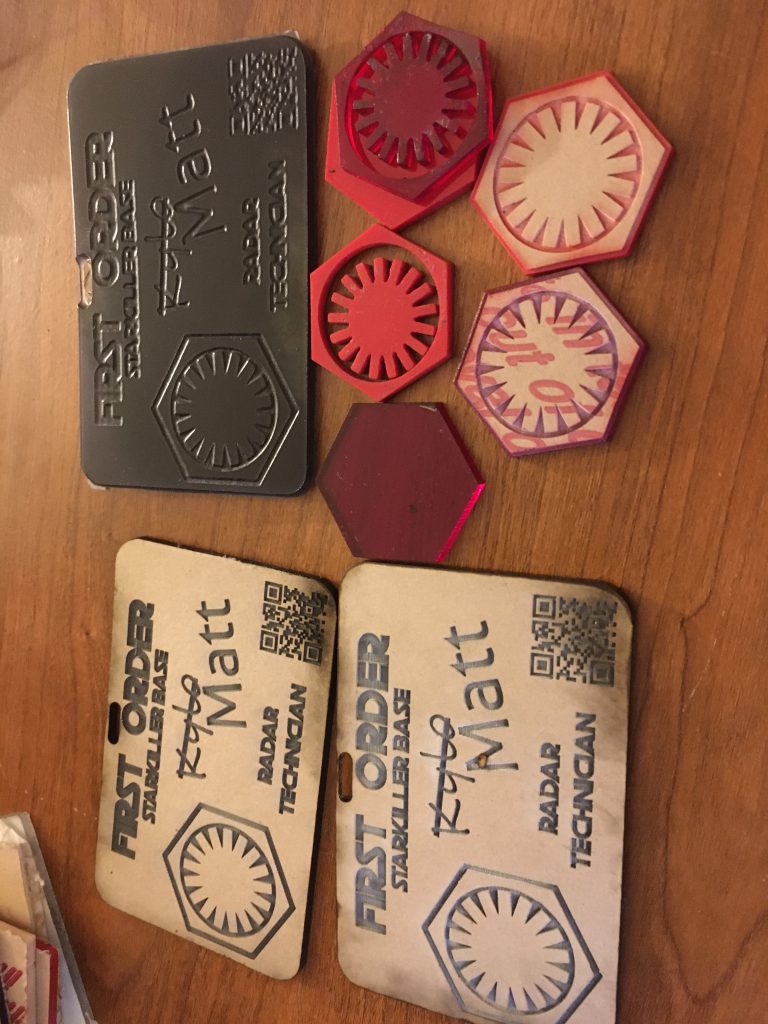 Results
Projects like these are small and incredibly informative in mixing different media, like paints and a laser cutter. I enjoyed the precision of the laser cutter, and the range of creativity with paints. The result is clean looking, sharp, and industrial in appearance. While the entire badge was not in the skit, it fit well in the world it was telling.
The scratched out "Kylo" not only added more of that adorkable charm, but cued in audiences who this character really is, regardless of whether they saw the original skit. I played with the QR code, but I don't think it gave added hits or anything like that to my site.
Image gallery