Deprecated
: Function wp_img_tag_add_loading_attr is
deprecated
since version 6.3.0! Use wp_img_tag_add_loading_optimization_attrs() instead. in
/opt/bitnami/apps/wordpress/htdocs/wp-includes/functions.php
on line
5453
Deprecated
: Function wp_get_loading_attr_default is
deprecated
since version 6.3.0! Use wp_get_loading_optimization_attributes() instead. in
/opt/bitnami/apps/wordpress/htdocs/wp-includes/functions.php
on line
5453
Deprecated
: Function wp_img_tag_add_loading_attr is
deprecated
since version 6.3.0! Use wp_img_tag_add_loading_optimization_attrs() instead. in
/opt/bitnami/apps/wordpress/htdocs/wp-includes/functions.php
on line
5453
Deprecated
: Function wp_get_loading_attr_default is
deprecated
since version 6.3.0! Use wp_get_loading_optimization_attributes() instead. in
/opt/bitnami/apps/wordpress/htdocs/wp-includes/functions.php
on line
5453
Deprecated
: Function wp_img_tag_add_loading_attr is
deprecated
since version 6.3.0! Use wp_img_tag_add_loading_optimization_attrs() instead. in
/opt/bitnami/apps/wordpress/htdocs/wp-includes/functions.php
on line
5453
Deprecated
: Function wp_get_loading_attr_default is
deprecated
since version 6.3.0! Use wp_get_loading_optimization_attributes() instead. in
/opt/bitnami/apps/wordpress/htdocs/wp-includes/functions.php
on line
5453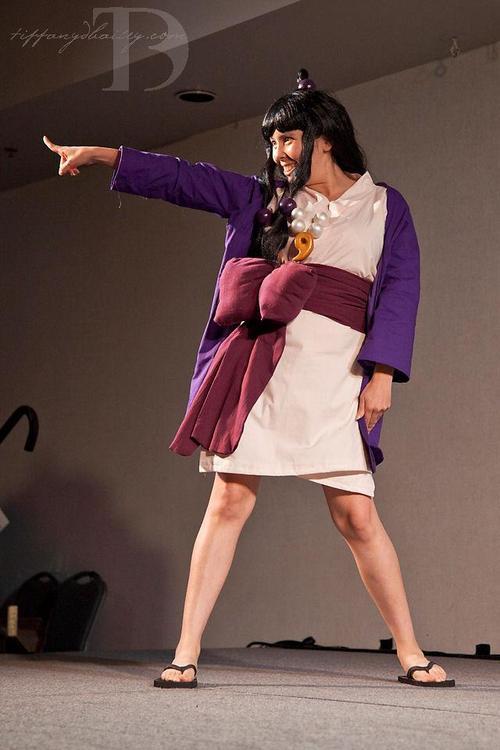 Awards won: Judges Award & Best in Show runner-up at Kinyoobicon 2013, Honorable Mention at Intermediate level costume craftsmanship at Tsubasacon 2012
Character(s): Maya Fey
Series: Phoenix Wright: Ace Attorney
Worn at: Tsubasacon 2012, Kinyoubicon 2013
Build duration: 1.5 months on & off
This is one of my earliest award-winning costumes, on a character who is bold, brash, and sweet! I had played the game and I was charmed by this character's nerdy interests, love of burgers, and care she has for the other characters.
From a technical perspective, this costume was such a learning opportunity for me to try kimono styles, along with unusual hairstyles and large accessories. I had such a challenge in fitting the kimono to my body type, and learned how much one can sand.
Media/Materials used
Cotton for fabric, since this character has a prestigious title, but she's used to running around at crime scenes, getting her hands dirty solving crimes. Lining was added to add a touch of prestige.
Wig
Styrofoam balls with layers of modge podge for the hair beads
Aluminum foil/polymer clay for the magatama pendant
Ping pong balls for the white pearls, all painted.
Patterns
Initially I started with a simplicity pattern, but when I prototyped, the fitting was too terrible to fix. I drafted the pattern using Taelic's guide, and iterated for fitting. I could have gone more period specific, but the design already violated period-specific features, such as the hem length.
Construction Notes/WIP
This costume was an interesting dive into kimonos, a garment I feel is inevitable for many costumers to do. Fitting was the biggest challenge, since I felt I did not have the right body type that would suit kimonos. I went through 4 muslin garments, trying different patterns and altering it for fit. The most effective fit-related alteration for the pink interior kimono eventually had a diamond dart.
The more time-consuming part was layering and sanding modge podge on styrofoam balls to make the balls big enough to be hair beads.
Results
This was the first of quite a few unusual hairstyles I've had to tackle. But it was such a delight to go in a fully-lined short kimono and kimono jacket. This costume was one of my first wins, and I am thankful for all the learning I did on it!
Image gallery