Deprecated
: Function wp_img_tag_add_loading_attr is
deprecated
since version 6.3.0! Use wp_img_tag_add_loading_optimization_attrs() instead. in
/opt/bitnami/apps/wordpress/htdocs/wp-includes/functions.php
on line
5453
Deprecated
: Function wp_get_loading_attr_default is
deprecated
since version 6.3.0! Use wp_get_loading_optimization_attributes() instead. in
/opt/bitnami/apps/wordpress/htdocs/wp-includes/functions.php
on line
5453
Deprecated
: Function wp_img_tag_add_loading_attr is
deprecated
since version 6.3.0! Use wp_img_tag_add_loading_optimization_attrs() instead. in
/opt/bitnami/apps/wordpress/htdocs/wp-includes/functions.php
on line
5453
Deprecated
: Function wp_get_loading_attr_default is
deprecated
since version 6.3.0! Use wp_get_loading_optimization_attributes() instead. in
/opt/bitnami/apps/wordpress/htdocs/wp-includes/functions.php
on line
5453
Deprecated
: Function wp_img_tag_add_loading_attr is
deprecated
since version 6.3.0! Use wp_img_tag_add_loading_optimization_attrs() instead. in
/opt/bitnami/apps/wordpress/htdocs/wp-includes/functions.php
on line
5453
Deprecated
: Function wp_get_loading_attr_default is
deprecated
since version 6.3.0! Use wp_get_loading_optimization_attributes() instead. in
/opt/bitnami/apps/wordpress/htdocs/wp-includes/functions.php
on line
5453
For: Espeon from Pokemon
Estimated build duration: Months for learned glass fuse, few few weeks on rest
The initial designs dramatically deviated from the initial sketches to what had a great silhouette on me. I started with comically huge ears, with heavy glass earrings. Now those earrings are a part of the necklace, along with adjusting the ears so they're not comically huge!
Media/Materials used
Unused scarf
Fused glass materials and jewelry findings
Red fairy lights
heart glass pendant (unused)
Ears from the minky fleece, echoing from espeon plushie fabric
Amazon wig
Notable Construction Notes
Learning to fuse glass for this necklace was always a dream for me! I love that art, despite the high initial cost; I took a class where I used the instructor's materials, and after many failed attempts to get a feel of jewelry design, I think I got the hang of it. The design came from a lillac wavy glass layered with a clear speckled glass.
I paper prototyped my initial long ears that are right for the pokemon, but to right for me! I initially liked the head scar as it is, but after revisiting the ears and using the plushie's ears, I grew to like the little ones. It's not hilarious, but it rhymes with the espeon plushies.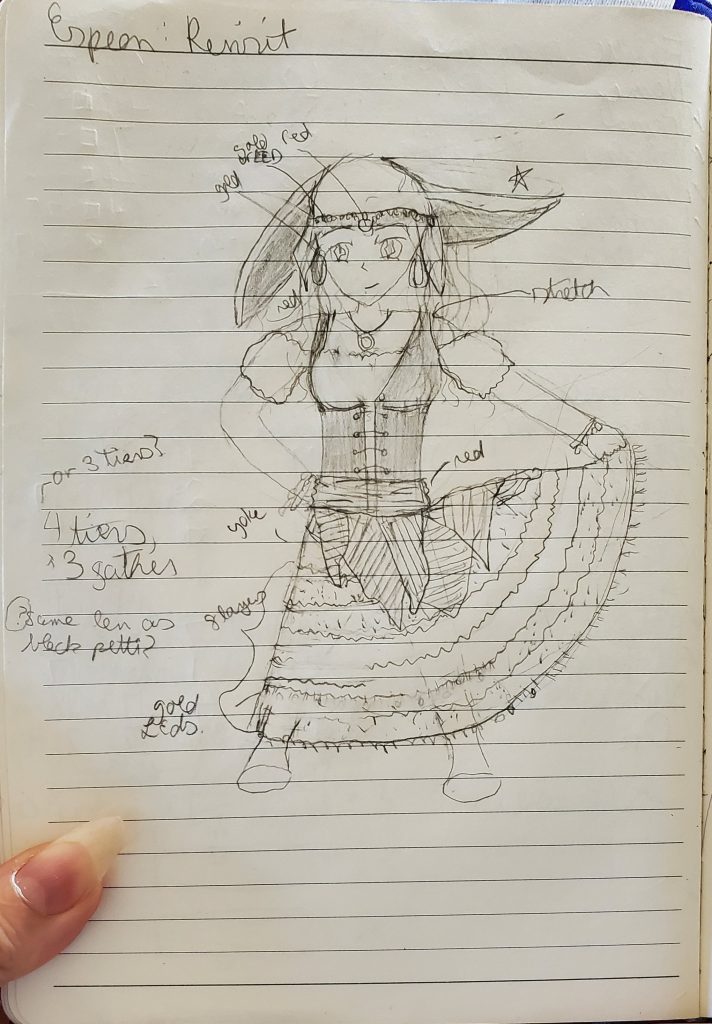 Results
While sewing the trim and the electronics was labor-intensive and worthwhile, I especially love how well the necklace fits in with the garment, along with the ears and wavy wig. The
Image gallery