Deprecated
: Function wp_img_tag_add_loading_attr is
deprecated
since version 6.3.0! Use wp_img_tag_add_loading_optimization_attrs() instead. in
/opt/bitnami/apps/wordpress/htdocs/wp-includes/functions.php
on line
5453
Deprecated
: Function wp_get_loading_attr_default is
deprecated
since version 6.3.0! Use wp_get_loading_optimization_attributes() instead. in
/opt/bitnami/apps/wordpress/htdocs/wp-includes/functions.php
on line
5453
Deprecated
: Function wp_img_tag_add_loading_attr is
deprecated
since version 6.3.0! Use wp_img_tag_add_loading_optimization_attrs() instead. in
/opt/bitnami/apps/wordpress/htdocs/wp-includes/functions.php
on line
5453
Deprecated
: Function wp_get_loading_attr_default is
deprecated
since version 6.3.0! Use wp_get_loading_optimization_attributes() instead. in
/opt/bitnami/apps/wordpress/htdocs/wp-includes/functions.php
on line
5453
Deprecated
: Function wp_img_tag_add_loading_attr is
deprecated
since version 6.3.0! Use wp_img_tag_add_loading_optimization_attrs() instead. in
/opt/bitnami/apps/wordpress/htdocs/wp-includes/functions.php
on line
5453
Deprecated
: Function wp_get_loading_attr_default is
deprecated
since version 6.3.0! Use wp_get_loading_optimization_attributes() instead. in
/opt/bitnami/apps/wordpress/htdocs/wp-includes/functions.php
on line
5453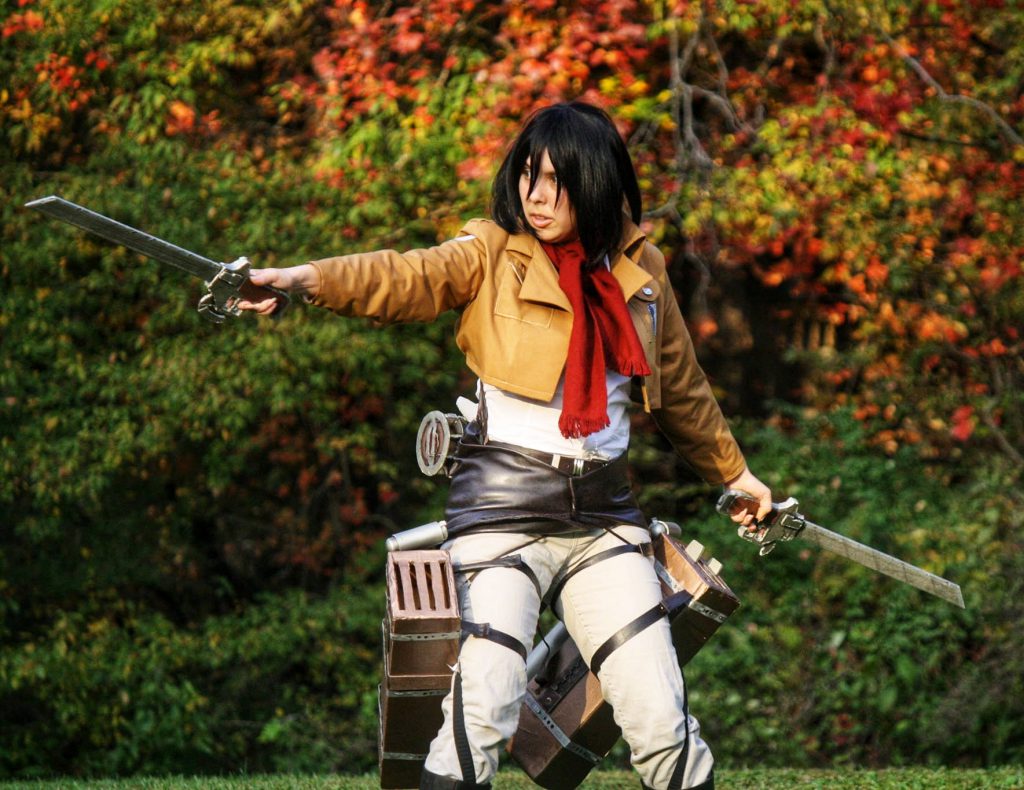 Awards: Star City Anime, 1st Place costume craftsmanship competition, Honorable mention in Masters Tsubasacon 2014
Character(s): Mikasa Ackerman
Series: Attack on Titan / Shingeki no Kyojin
Estimated build duration: hundreds of hours, especially on the props
She's a strong, protecting character who has gone through tragedy to be a talented soldier. She is imperfect, trying to muster such strength in such tragedy. I love cosplaying characters that have such strength.
I learned that I loved making heavy props with making these costumes, so I wear it every chance I get. I made mostly everything, and the 3DMG especially was a labor of love.
Can you guess what the most expensive material was?
Media/Materials used for entire costume
Thick cardboard (for moving. I got it for free from Wine stores, who have cardboard appropriate for moving fragile items securely)
Leather tape for the harnesses
Paint strips and foam for swords and blades
Used CDs, pocky boxes, and carved styrofoam for the motor
Foam for all added parts
Cotton for the jacket
Pleather for skirt
Heated transfer pattern for the Survey Corp symbol
Black wig
White shirt, pants and boots were pulled
Notable Construction Notes
Like any heavy-props build, weight is crucial, and materials dictate how heavy the prop is, along with how long you'll stay on the con floor. For this build, I chose heavyweight cardboard, and it was both lightweight and durable. The core of the props were rather inexpensive. In the portfolio notes for props, I share the most expensive part, which is very reasonable. Here are more details on the 3d maneuver gear builds.
The jacket and pleather skirt was a fun build, as I explored a mix of both inexpensive and fancy materials to generate a low-status, military garment that may end up being in a Titan's stomach.
Results
This build was what made me love heavy builds. They're impressive, detailed, and such a stand-out in conventions. I was the proudest of the gear built. It was lightweight, durable, and any potential bend can easily make it battle damage. I could easily navigate through cons, as well as one can, wearing boxes on legs.
Mikasa was such a delight to cosplay; once Attack on Titan finishes the final season, I'm tempted to watch the entire thing again; maybe the cosplay bug bit me again for version 2.0!
Image gallery